How Studio Schicketanz designs for zero net energy
How Studio Schicketanz designs for zero net energy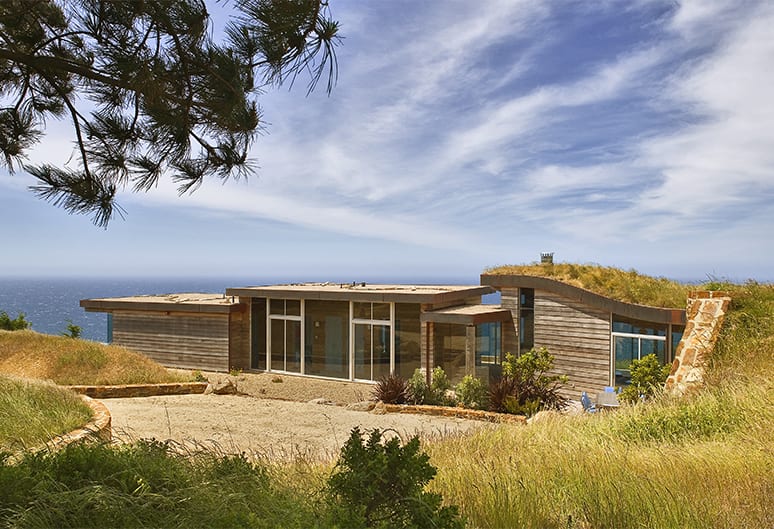 How Studio Schicketanz designs for zero net energy
How Studio Schicketanz designs for zero net energy
In a remote region with a vulnerable and unreliable power grid, propane home systems offer efficiency, protection, and luxury.
Design
For Mary Ann Schicketanz, designing zero net energy (ZNE) homes is both a lofty ideal and a concrete necessity.
The principal architect at Studio Schicketanz in Carmel, California, works primarily on luxury homes on large-acreage lots in Big Sur and on the California coast. So while Schicketanz strives for sustainability and has completed several LEED-certified homes, several of her projects in the remote region are off the grid, necessitating an energy-neutral approach.
To achieve a ZNE footprint, Schicketanz relies on solar photovoltaic (PV) panels, battery storage, and propane for some of the home's most energy-intensive systems. "In most cases, propane is necessary," she says. "It's good to complement the shortage of energy for when we just have PV. We can't do it all with solar yet. Propane is our booster, so to speak."
For high-energy-demand space heating and water heating, for instance, Schicketanz almost exclusively uses a propane combi boiler to provide hydronic heat. That approach has the added benefit of improving her homes' health and indoor air quality by avoiding a forced-air system that might blow dust and germs through the air. She also finds propane handy for clothes dryers. "It's more energy-efficient for a clothes dryer to be on gas than on electric," she says.
Many of her homes' luxury amenities also run on propane. Most of her clients prefer to cook on a gas stove, and she almost always includes a gas starter in her fireplaces. Spas have always been a common feature in her homes, and pools have become more common in recent years as the climate grows warmer and baby boomer clients want pools for their grandkids. While solar energy can get a pool to around 80 degrees, propane heaters can bring the pools and hot tubs to a more comfortable temperature.
Protecting views and safety
Dani Ridge, a small project built in a remote location in Big Sur for a family from Los Angeles, exemplifies Schicketanz's approach. In addition to using propane for the home's stove, dryer, and hot tub, the home has a propane boiler for hydronic heat, which the homeowners preferred for indoor air quality and general comfort.
Visually, the home is in a highly sensitive area, with ordinances protecting the scenic corridors and viewsheds. So Schicketanz was thrilled to be able to bury the home's propane tank underground and out of sight. "A lot of functions in the house are underground, and it has a grass roof that goes on top of it," she says. "It sits on this beautiful landscape looking down on the ocean. You'll not notice the water tank, you'll not notice the propane tank. It's all underground."
Like many of Schicketanz's projects, Dani Ridge also includes a propane standby generator to protect the home against extended power outages. While the region lacks access to natural gas, it also has a particularly vulnerable and unreliable power grid. "Our power is out every winter," she says. "And after fires or other natural disasters, people have been out of power for months." The electric utility focuses its efforts on more populated areas, she says. "If you have five people off a road somewhere in Big Sur, good luck."
Standby generators are particularly critical for clients who have a second home or who are not full-time residents, Schicketanz says. "Otherwise, if you don't have an automatic transfer from the grid to your generator or your battery and your generator, then everything in your freezer is gone and everything in your refrigerator goes bad." Other essential life and safety features such as fire-suppression systems and alarm systems also won't work. "So for that, your alternative power source — in this case, propane that runs a generator that generates electricity for your house — is crucial," she says.
Seamlessly off the grid
Several of Schicketanz's projects have been completely off the electrical grid, with utility hookup fees in the remote area occasionally amounting to several hundred thousand dollars. Those projects wouldn't be possible without a propane generator, she says. "For people who truly live full time off the grid, they want to have their microwave and their hairdryer and their clothes dryer. And for that, you need the propane boost. You can't do that on just battery storage."
Schicketanz has begun integrating propane backup generators with her homes' PV and battery storage systems, offering a seamless solution for ZNE projects. By using propane for power generation as well as energy-intensive systems such as heating, she can ensure her homes are not only well-protected during an outage but also operating at peak efficiency throughout the year.